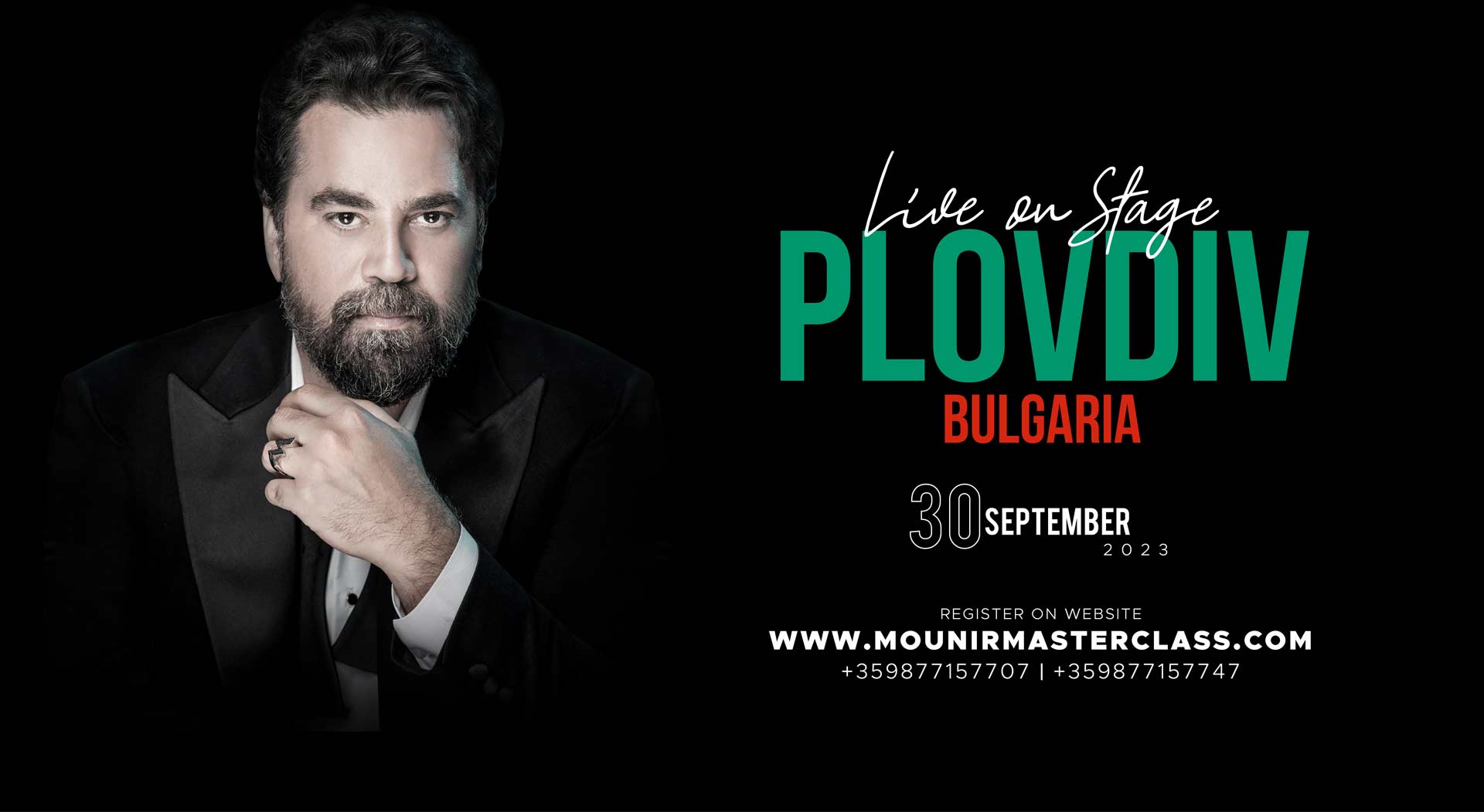 The School MasterClass by MOUNIR
Plovdiv, Bulgaria
Saturday, September 30, 2023 13:00 (Local)
The School MasterClass by MOUNIR
What will you learn from the
Mounir

Master Class?

Mounir, the number one hair design educator of all time, is thrilled to rejoin the Balkan hair designers in Plovdiv, Bulgaria, the capital of culture with his renowned "School Masterclass".

More than 15,000 international hair designers attended more than 14 masterclasses around the world.

Paris, Sydney, Dubai, Milan, Brussels, Istanbul, Warsaw, Barcelona, etc.

Treat your mind with education and be among the 15,000 international hair designers carrying the Mounir legacy.

Plovdiv, the capital of culture, will welcome Mounir, the Godfather of Hair design on September 30.
Time Table:
Registration at 10:00 am
Doors open at 12:30 pm
Masterclass starts at 01:00 pm
One Hour Lunch break 4:00 pm – 5:00 pm
Masterclass ends at 07:00 pm
Photography with Mounir from 07:00 till 08:30 pm.
Transformations given by Mounir
3 full live transformations
3 live toner applications
More models for the final show
Ticket Types
Diamond 1200€

Front rows
Certificate photo with Mounir
Mounir army cap & Face
MSoft drinks & cookies
A4 folder & pen
Fast track to registration – fast track to photo with Mounir
Golden 1000€

Center rows
Group certificate photos with Mounir
Mounir army cap & Face
A4 folder & pen
Silver 800€

Rear rows
Group certificate photos with Mounir
Mounir army cap & Face
A4 folder & pen
You should know:
Seat Number: The seating criteria are by the sequence of reservation and the ticket type. Your seat number will be sent to your email one month before the event. All ticket-type holders will have a perfect view of the demonstration & show.
Attendance: The number of attendees will be 300-500 people maximum per day.
Languages: The masterclass will be conducted in Arabic and interpreted in Bulgarian and English. Upon receiving 25+ people of another language, we will appoint an interpreter of the respective language.
Certification of attendance: All ticket-type holders will receive a certificate of attendance signed by Mounir.
Payment method:
Guideline to purchase your ticket online:
1- Enter to mounirmasterclass.com
2- Click on Plovdiv, Bulgaria
3- Choose your preferred ticket type
4- Read all the information
5- Proceed to checkout
Via bank transfer:
1- Contact the support team on: +359877157707 / +359877157747
2- Via bank transfer in euro
Miscellaneous
1- It is a Look & Learn masterclass
2- Attendees are not required to bring anything with them.
3- The ticket cannot be transferred to another person.
4- No one is allowed to enter the masterclass other than the ticket holder.
5- Ticket card is required.
6- Tickets are non-refundable after purchase.
7- Parking space available.
For More information about our reseller in Bulgaria CLICK HERE
Events you might like to attend